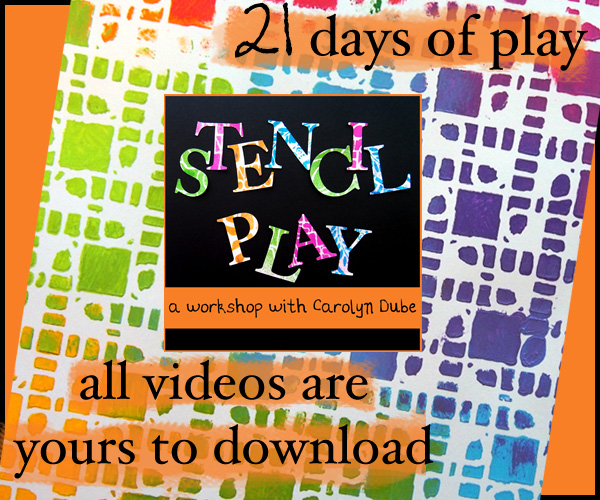 This workshop is currently closed to new students. If you'd like to know when the next mixed media workshop begins, keep an eye out in my newsletter.  There will be a special newsletter only discount in there too when the next one launches!  You can sign up for the newsletter here.
They say that it takes 21 days to make a something a habit. Well play should be a habit.  Play is not only fun but is a time that is filled with learning.  In this workshop, as you play with the techniques  you will be learning all about color, layering, and how to get the most out of your stencils.
You can watch Stencil Play on YouTube here.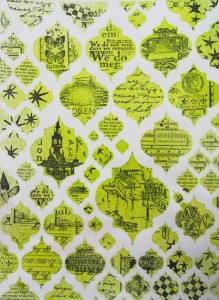 There are 18 lessons each focusing on one technique.  Easily there are 100+ variations of the techniques taught in this workshop that can be used with any stencil.
But wait 18 lessons? You said it was a 21 day workshop.  What are we going to do in the other three days? That's for combining techniques and using the fun papers we created with both store bought stencils and homemade stencils.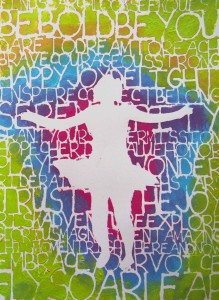 Are you new to stencils?  Great!  No experience needed for this workshop.  Been stenciling a while?  This workshop has techniques in it I have never shared.
Each day there is a new video and technique for you.  The videos are under 15 minutes (well one day it is15:49 seconds but I was close to 15:00).  You can watch the videos any time you want forever because they are downloadable.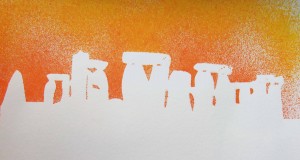 That's right, you can download them and watch whenever you want.  You can take your time and work through the lessons as your schedule allows.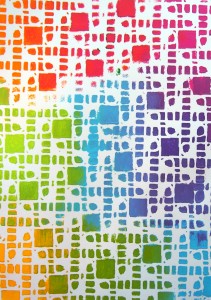 The Play Book.  We'll be compiling this together.  I will have a downloadable page with each lesson that includes the how-to for the technique that you glue into any journal or sketchbook.  Then you add samples of of what you've made while experimenting with the technique.  This will build a reference book that you can refer back to for years to come.
There's a secret Facebook group (Facebook's term not mine…) to share privately what we're creating.  A virtual playground for our fun.  Not only can we share our play we will be inspired by others and get to know other creative people.
This is a self-paced workshop so it is all available to you right now.  That includes all the pre-workshop videos all about using lots of color on stencils and how to master and control the mud effect.
What's it like to take a workshop with me?  You can take my free workshop, Use Your Words or you take a student's word…
I must say that I am so very impressed…I have purchased a few other on line classes and we know there are a lot of videos out there to watch as well and though I am grateful for all of that yours is the one that seems to inspire me most. It's evident with your past and now you have a "gift" to teach. Anyone can make a video but it takes a gift to keep your audience captivated and to be able to really inspire one to believe in themselves. I have been pacing myself with this workshop just so it lasts… Love what you do and appreciate it as well!!!Thank you! -Terri Doney
Supply List:
This is the list of what I used in this workshop. I encourage you to use what you have as well as substitute any brand or type of supply you prefer.
If you have any questions – just ask!  I'm here to help.
Acrylic Paint – any brand, any kind, any colors you enjoy!  Dick Blick has lots of varieties of paint
Blank Stencil Making Sheets 8.5″ x 11″ 
exacto knife and/or scissors
firm bristled brushes for stenciling – got mine in the kids section of Michaels
Rubber stamps – any that you have
Permenant Ink Pad – I used Ranger's Archival Black
Hot glue gun
Craft mat or teflon sheet
plastic palette to hold watercolor paints if you buy the tube watercolors (I have found the ones at Michaels or Hobby Lobby to the cheapest and most useful)
Crayons- I used Crayola
Sharpie marker
Rubbing Alcohol
Household Objects – I promise it will all make sense in that lesson
Stabilo Pencil (just used a black one briefly so if you don't have this don't worry about it)
Repositionable tape -blue painters tape works well too
In the workshop I have a list of the exact stencils I use.